Friday, June 17, 2016 / by Shenae Andrus

My husband and I are quite the lovers of all things British. On our honeymoon we had the opportunity to travel to Ireland and spend a day in London. I was quite the novice, so all I really cared to do was get an Instagram worthy photo in front of a red phone booth and Buckingham Palace. Of course once we landed in London my experience quickly delved into a deeper level of sightseeing and appreciation of the culture and history represented there. We toured the Westminster Abbey and saw with our own eyes the graves of historical giants such as Charles Darwin, Charles Dickens, George Handel, Sir Isaac Newton and many dignitaries and Kings. We had tea in the Abbey's small Cellarium Cafe and Terrace and then toured the rest of the city by foot and taxi. We also had to make a quick trip to Harrod's Department Store where we ate a small bite on the mezzanine level of the store. It was a magical experience, but certainly not the catalyst to our love for Britain.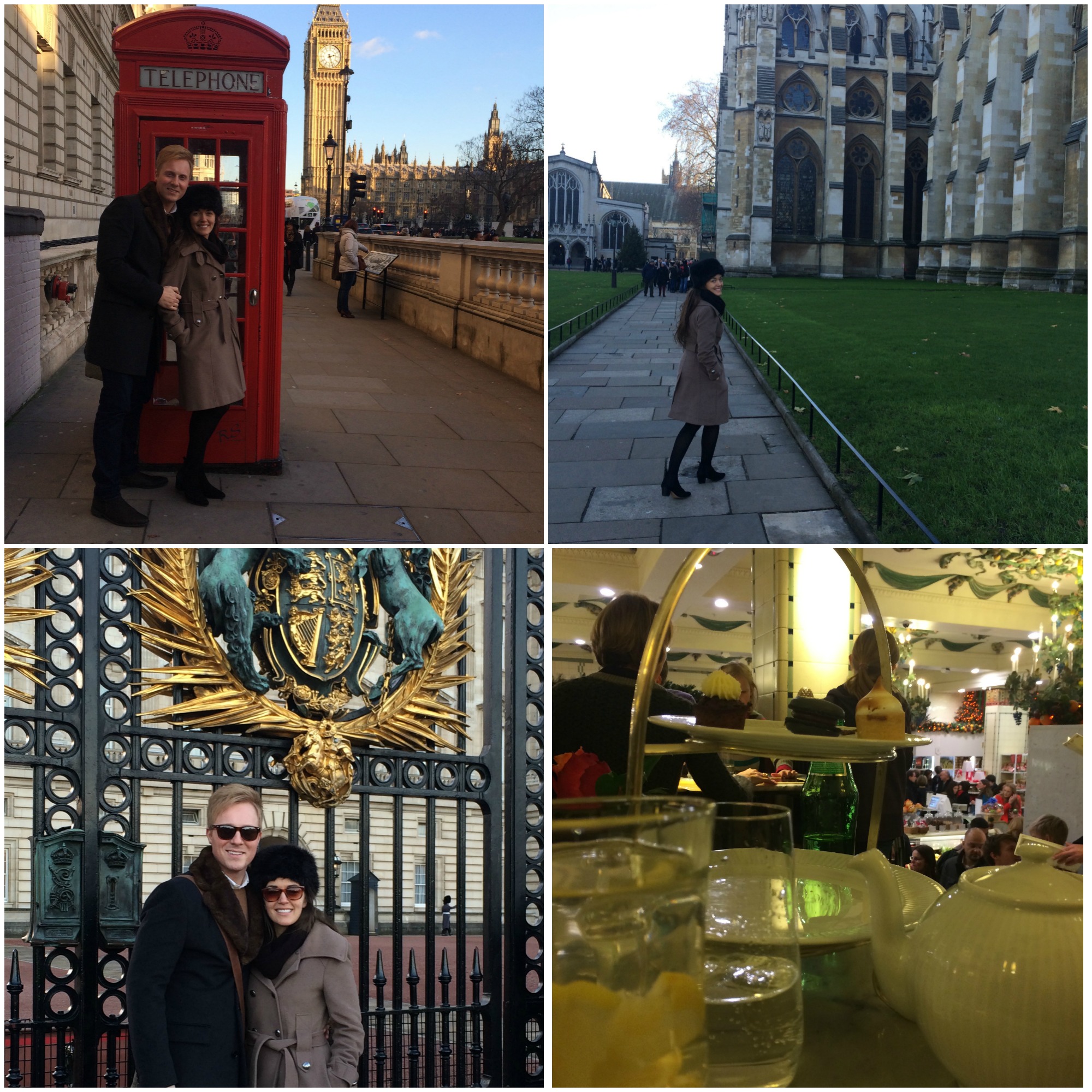 (Top Left: Hubby & I by a red phone booth! Top Right: Entering West Minster Abbey. Bottom Left: In front of Buckingham Palace. Bottom Right: A view from Harrod's Tea Mezzanine.)
We have long been fascinated with the British culture and the lifestyles of the Royal family members. I actually threw my husband a London/British themed birthday party. There even currently hangs a Union Jack bunting in our living room to go with our decor. (I may have put it up there for my hubby's birthday and it never got taken down.) Collector's magazines on the royal family, William and Kate and their children sit on our coffee table. It is simply fun to dream and enjoy cultures from around the globe. Fortunately for fans like us, Rehoboth feels the same. There is not just one, but two, British themed restaurants in the surrounding area. We have frequented both. Atop the themed decor and atmosphere the food is also dynamic at both locations. Each offer's its own unique experience.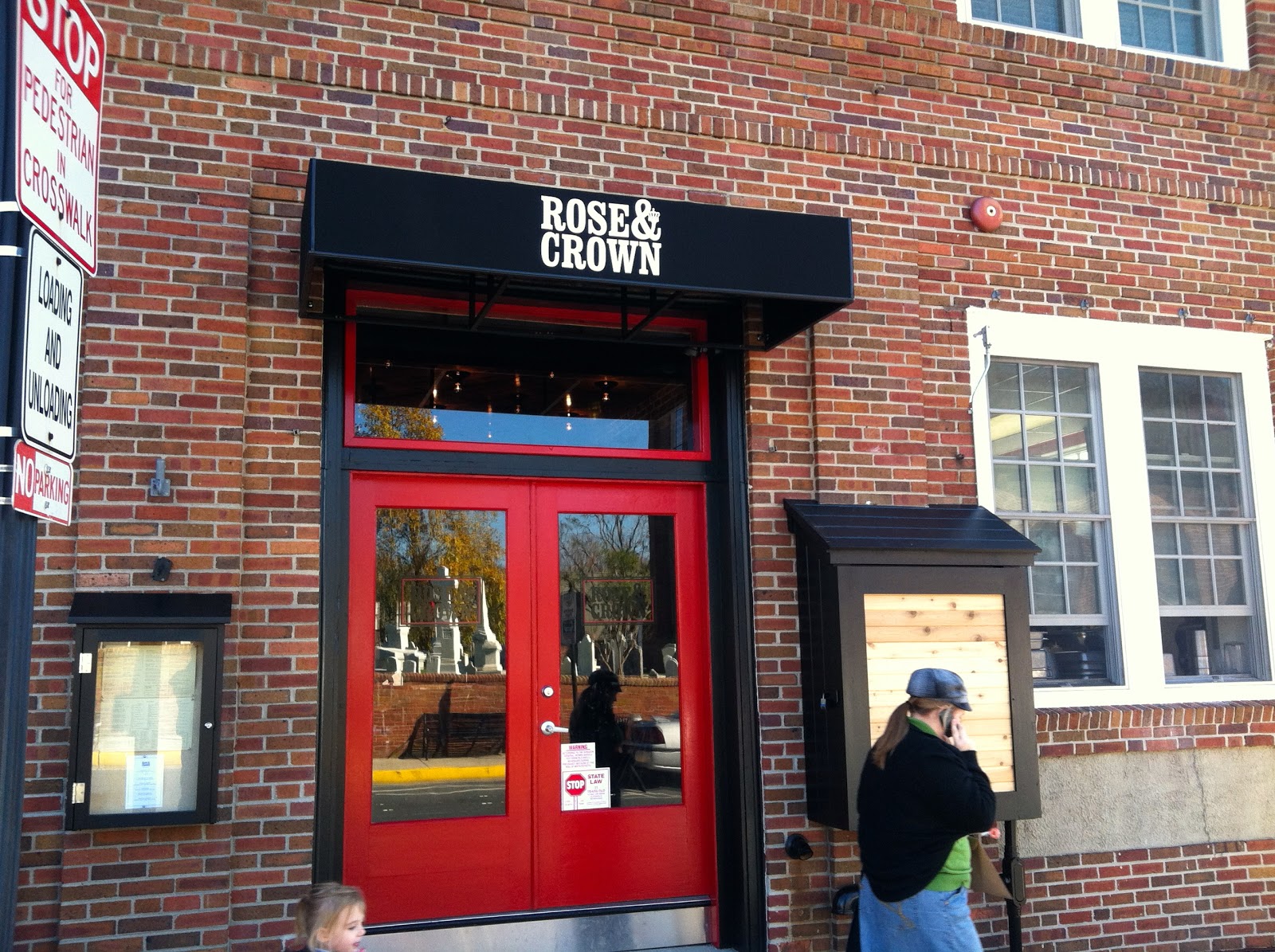 The Rose and Crown
is a sit down restaurant in Lewes. Located downtown at 142 2nd Street, you'll recognize it by its iconic red doors. With a nod to those famous phone booths that I was once so fascinated with, the feel of London seeps out even onto the exterior design of the restaurant. There is a bar for alcoholic drinks immediately to your right upon entering. Casual seating around the bar is also available. As you walk further towards the back of the restaurant you'll find high top booths and a very relaxed atmosphere. This is a great spot for dinner or even a date. You enter the establishment and are surrounded by tufted brown leather, wood paneling, wooden floors and exposed brick. The only thing missing are British accents on the waiters! You feel as though you've stepped into an authentic British pub and the food only enforces that notion. Everything sounds mouthwatering, from seafood options to some more authentic British English cuisine. Fried pickles in beer battered, flaky goodness to Drunken Crab dip sits under the appetizer section of the menu. There are of course many selections for "chips" or as we refer to them, fries, as well as Fish and Chips, English Pot Roast, Bangers and Mash and Shepherd's Pie. (We told you it was true to the style!) To see their full menu,
click here.
Prices are very reasonable and overall, the experience we encounter at the Rose and Crown is always a positive one.
For a more casual and less dressy British meal, we go to
Go Brit
. It's more relaxed environment is not to be mistaken with a less impressive restaurant, however. Go Brit focusses it's effort on making some of the most delectable fish and chips on the east coast. With two branches in the area, you can visit one down on Rehoboth Avenue by the beach or at 18388 Coastal Hwy. This is a great stop for the family with scenes from London on the wall and even a mini-Cooper stationed right inside the door. It's more of a fun and exciting experience for one of those pit-stops in-between shopping at the outlets. Served in red baskets with "newspaper" lining, it doesn't get more original than this! Their menu is super authentic with items such as the Henry VIII Seafood Platter and The Tube (Fried fish Tacos.) Everything is beer battered and fried... and we do mean EVERYTHING. Bottles of vinegar sit atop each booth table for you to enjoy on your fries. For a full menu, click
here!


Rehoboth is certainly a family friendly area. There is something for everyone. Whether you want Italian, Cajun, Seafood or Vegetarian options, you can find it near the beach. While we love the British themed dining options, it is simply one of a million reasons to love the east coast. Every day thousands of tourists visits and dream of what it would be like to live near the water. If you are one of those dreamers, we can help to make that dream a reality. The Don Williams Group is made up of Delaware agents that love helping out of state residents make Rehoboth and the surrounding cities, their permanent residence. Inspired by the water and beach life, we help clients to
sell their homes
and relocate, or
move into the area and purchase a brand new dwelling place.
Whatever your real estate needs may be, call us day or night by
clicking here
. Your dreams never stop, so neither do we! Call today to set up a personalized home buying plan.