Saturday, May 7, 2016 / by Shenae Andrus

Ever heard the expression, "It rained on our parade?" Well in this case, it literally did. Every year in Lewes, DE, individuals come from around the east coast to showcase and view British antique cars. The Lewes Chamber of Commerce along with the British Car Club of Delaware, hosts the event. 2016 marked the 21st year of this annual show and vehicle parade. Even though the weather was less than charming (and the rain actually did cancel a scheduled parade) it did not deter too many visitors from still showing up. My husband and I were of the brave souls that ventured out into the muggy and damp weather in order to see a fabulous attraction. Numerous other couples and families grabbed an umbrella and a pair of rain-boots to see the vehicles for themselves. Keep in mind, there was no rain date scheduled, so it was now or next year!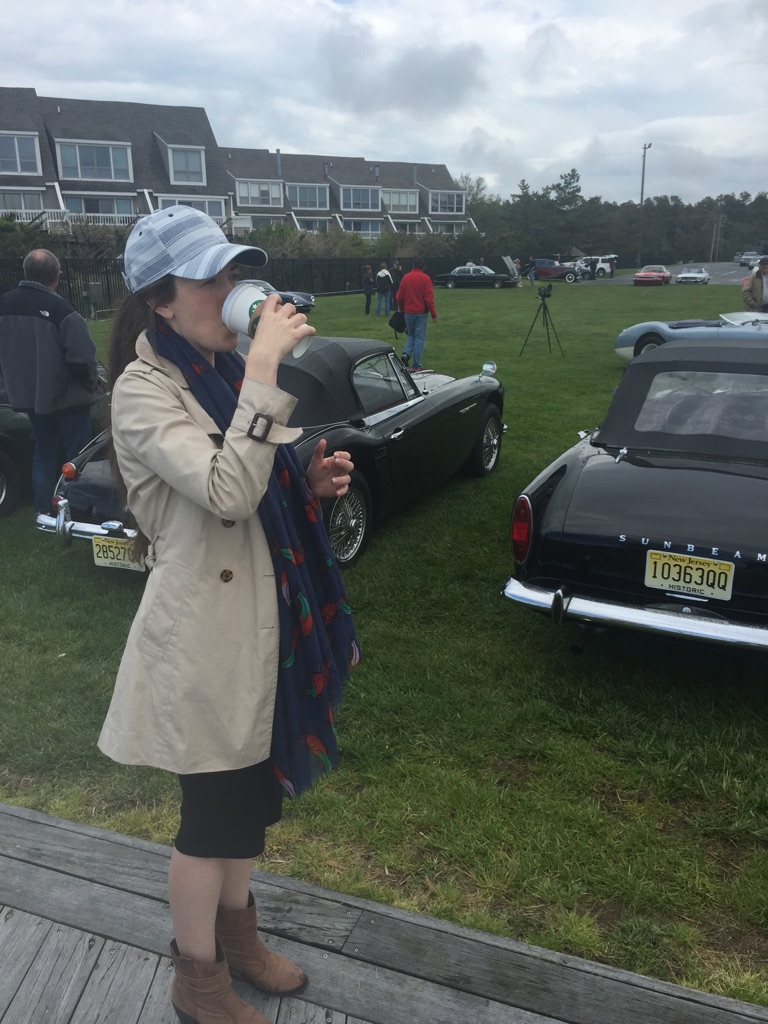 (Dressed for the weather and enjoying the gorgeous water view while sipping a coffee and eyeing the cars!)
This year the Motorcar Show was held in the parking lot of the Cape May-Lewes Ferry Terminal. From 11am until 3pm, for just $3, visitors could walk around past parked classics, snag a few pictures and chat with the owners; many of whom drove in from New Jersey and even as far away as Ohio. The idea for this spectacular event was derived over 20 years ago by the British Car Club as well as Car Chairman, Mike Tyler. The goal was to attract tourists into Lewes in the spring, before the chaos of summer took over. Every year the car show has featured a new marque. This year, it was the Jaguar XJ-S. (I have to admit it's Greek to me, but it all looked extremely fascinating!) My husband is quite the fan of British cars and well, anything British at all, so he was in Heaven.
(He's next to his favorite car model below).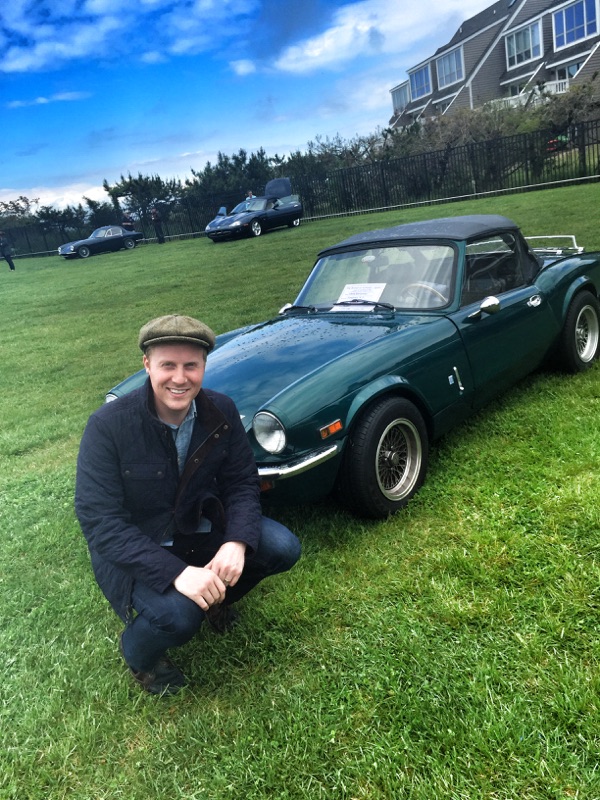 In conjunction with the British Motorcar Show, all of Lewes shows up to party. There is an annual sidewalk sale where the quaint boutiques of Lewes sport their merchandise outdoors for passing shoppers. There is also a Bloom Spring Plant sale, exhibits and more. Needless to say, this year these adjunct events were somewhat hindered due to the weather, but it is certainly something to keep an eye out for in the Spring of 2017! My husband and I will certainly be in attendance and hoping for some sunshine.
Lewes has to be one of my favorite cities in the world, and the British Motorcar show is only one of our thousands of reasons why. There's nothing that makes me happier than a stroll down Second Street or a pop into one of the restaurants overlooking the water. We love living near such a relaxing and glorious spot. No wonder it's packed with tourists during the summer - THIS is the place to be! If you are looking for help in relocating near Lewes, do not hesitate to give our realty group a call today at
(302) 545-6859
.
The Don Williams Group
consists of numerous agents that are all waiting to help you customize your own personalized home buying or selling plan. Don, Liz, Tripp, Sherri, Marian, Geoff and Shenae will work alongside you to ensure that your residence in Lewes, Rehoboth or the surrounding cities makes every part of your realty dreams come true. Let us help you live in the area, become our neighbor, and ensure you're able to consistently partake of events like the British Motorcar Show every year!