Friday, March 3, 2017 / by Shenae Andrus

They say you should never assume, but when the name is "
Grandpa Mac
," it's a pretty safe bet to guess that they serve pretty much all things pasta. It's the mac-and-cheese connoisseur's paradise and it's all brand new in two locations at Rehoboth Beach! Just a few weeks ago, my husband and I mustered up the courage to try this new venue next to the Tanger Outlets right off Coastal Highway. It is always a risk to try a restaurant solely devoted to a traditional dish like mac-and-cheese. The bar is automatically set very high and you walk in with all sorts of expectations. I told myself not to expect much, but boy was I blown away!

Above: Grandpa Mac booths featuring original artwork by the owners - Coastal Hwy. location.
First of all, the branding for this restaurant is on point. Gigantic artwork graced the walls and I was blown-away to find out that it was all original and hand painted by the owner. Even the chairs had the "Grandpa-Mac" logo etched into the wooden backs. A vintage pac-man machine sitting in the corner suggested this was a hip establishment. Yellow menus boasted of every pasta dish imaginable with the star entree (mac-and-cheese) offered in various forms. I tried the "Hot Blue Hen" which was basically buffalo chicken with campanella pasta, bread crumbs, celery and tons of cheese. My hubby went for the Spaghetti and Meatball meal. Both were mouth watering and DELICIOUS. We were not disappointed in the slightest. On top of the mac-and-cheese options, panini, soup, salads and desserts also grace the menu. You can even build your own pasta from scratch. The best part is that everything is homemade - from the pasta to the toppings. It is fresh and served hot! (
Full menu here.
)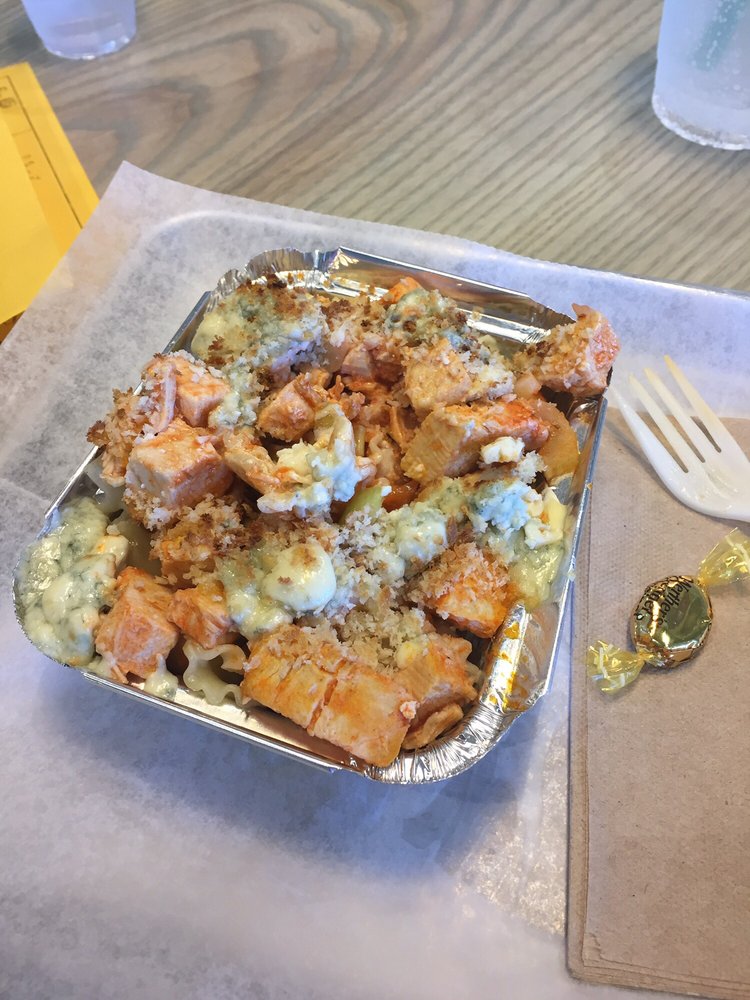 Above: My preferred mac-and-cheese option, The Blue Hen. Each meal comes on a metal tray in a foil dish, accompanied by a Werther's original caramel candy.
We were also pleasantly surprised to see that there is a second Rehoboth location near the beach! The downtown location is near the Midway Outlets and features the same great ownership and menu as the one we now frequent. Come to find out, Grandpa Mac was actually founded by two brothers. And, you guessed it, they did it all in honor of their late grandfather. Perhaps that's what you feel so tangibly when you walk in. Everyone is happy and the environment is fun and wholesome. The fact that it is so fresh, hip and centered around an all-American, beloved dish, is what makes it one of our favorite stops in Rehoboth! We plan on bringing all of our out-of-town guests to Grandpa Mac in the future. It is guaranteed to be a hit!
The fact that Rehoboth is continually growing and improving, makes it the perfect place to vacation or settle down. Places like Grandpa Mac are just one of the reasons why we love living so close to the beach. There is always a fun restaurant to try or venue to take visiting family and friends. If you are considering calling Rehoboth your second home, or purchasing a vacation house, why not give our team a call today? The
Don Williams Group
is made up of specialized agents that work with our clients to develop a personalized home buying plan. Whatever your needs may be, we are the team for you. We help to sell or buy homes and make all of your realty dreams a reality!
The Don Williams Group
Cell:
302.545.6859
don@donwilliamsgroup.com