Tuesday, May 31, 2016 / by Shenae Andrus

At the
Don Williams Group
, we love everything about Delaware. We shop at the local boutiques, we dine at the scrumptious restaurants and we live near the water ourselves. That is why it is so easy to help our clients buy and sell homes. It is already a passion of ours - the land, the real estate, the love of the east coast. It is what makes us great agents who are willing and able to answer you call and help you set up a personalized home buying plan. Should you ever desire to
search the market for a new home
, or if you're ever interested in
selling your current dwelling
, give us a call today at
(302)545-6859
and our agents Don, Liz, Tripp, Sherri, Marian and Geoff will be more than happy to assist you.
We often highlight local venues, shops and dining destinations on the blog. We try to keep you updated on events happening in the community and even local artists that are on the rise from our very own Delaware state! One such artist is named Joel Andrus, a pastor from Milford, DE, who just so happens to be a celebrated recording artist. Here is what we recently discovered about one of our very own natives and an upcoming concert he is performing in this week!
On
Friday, June 3, 2016
, Dark Child Gospel will release contemporary gospel singer/songwriter/performer Joel Andrus' highly anticipated new project at an EP Release Concert held at
7:00 p.m.
in the Milford High Auditorium of Milford, Delaware. The concert will feature original music from his two newest projects "Lifted Up" and "Speak Your Name."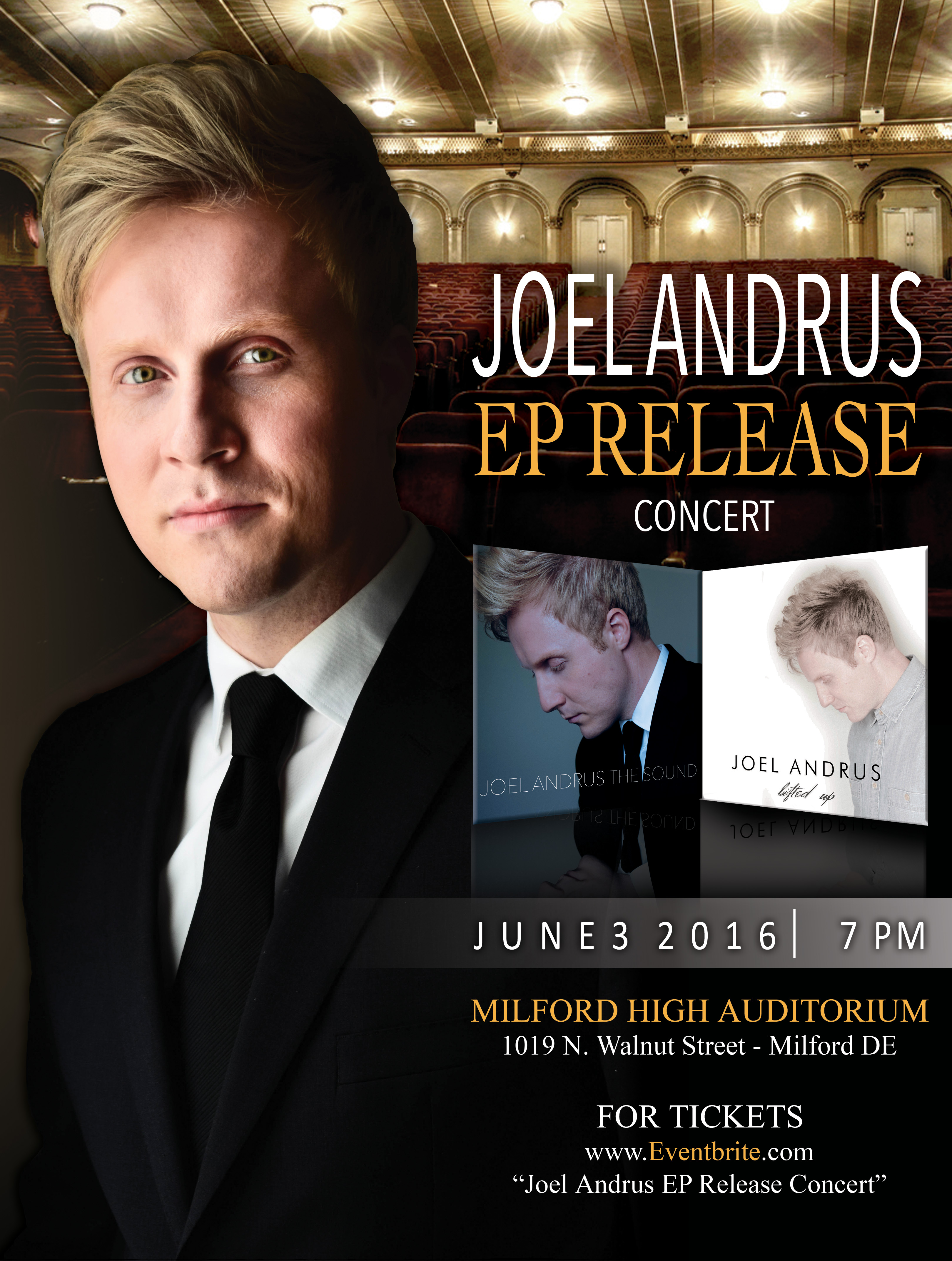 Joel wrote or co-wrote many of the songs, including his first hit single
"Refresh Me"
which topped the Eastern European and American iTunes charts the first week of its release. Also featured is the title song
"Speak Your Name" which Joel recently performed at North American Youth Congress
, to a crowd of over 20,000 in St. Louis Missouri.
The new EP showcases a plethora of powerful songs that encourage the listener to draw close to God. Joel said, "I wrote these songs in moments of prayer. They are very personal and honest."
Milford, Delaware will be the debut location of Joel's EP. Looking to his hometown, Joel Andrus said, "I look forward to bringing my music home to the people who inspired me in the beginning. This concert will be dedicated to the community."
Joel's roots in Milford, Delaware were founded in family and friends who encouraged his musical dreams. His natural talent was developed through classical training and private lessons, combined with gospel music heard in church.
In the late summer of 2007, Joel Andrus was introduced to Grammy Award winning Producer/Songwriter
Fred Jerkins III of Darkchild Entertainment
and later signed to the label in December of 2010. Since then, Joel has performed on national and international stages making appearances with various hit artists such as
Marvin Sapp
,
Hezekiah Walker
,
Kim Berrell
,
Chris August
,
Deitrick Haddon
, and many others.
On a local level, Joel has performed at Homes for Our Troops sponsored by the TLC Channel, the Heritage House, the Delaware Veterans Memorial, the Mayors Prayer Breakfast, and the 911 Freedom Festival. Other appearances include the Delaware Federation for Abused and Neglected Women as well as The Shepherd Place. Joel has made solo appearances before former Delaware Governor Ruth Ann Minner, Attorney General Beau Biden, Congressman Mike Castle, Mayor Ronnie Rogers and other prominent government officials.
Joel lives in Milford, DE with his wife, Shenae, where he serves as associate pastor at Lighthouse Christian Center. For more information concerning the upcoming EP Release Concert, please visit the Joel Andrus Music Facebook page or
www.joelandrus.com
. To purchase concert tickets online, visit
EventBrite.
Grab a ticket and you will probably see some familiar faces from the Don Williams Realty Group in the crowd. We love supporting local artists!