Saturday, September 3, 2016 / by Shenae Andrus

I've lived in Delaware for 2 years in December. What I have grown to love about the location of my home, is that I feel it allots me the best of both worlds. Residing in Milford, DE means that I am away from a lot of beach traffic and hustle, yet close enough to Rehoboth and Lewes to join in on the fun. On an even larger scale, we are only hours from some of the nation's most popular, flashy and glamorous states and cities. This means that when I want to be away from the noise and the crowds, I stay home and walk the nature trails in my back yard, or bring my sweet doggie through the quiet surrounding neighborhoods for a time of reflection and serenity. However, when I get an itch to live the fast paced life, shop 'til I drop and sight see some world-famous attractions, my husband and I just pick-up and drive to our city of choice. Since being married, Joel and I have visited Philly, Washington DC and New York City on numerous occasions. All just 1.5 to 2.5 hours from home, they present us with perfect 1 day trips.
After close to 2 years of visiting surrounding cities and states, I thought I had seen it all. Boy was I wrong! A couple weeks ago, a friend of ours recommended we all go to explore the town of
St. Michaels
on Maryland's eastern shore. After having to reschedule our little road trip twice, we finally had settled on a date. Little to our amusement, did we discover that our day of choice was a rainy one. Falling into the trap of weariness and a little bit of complacency, we almost settled for something a little closer and easier to do for the evening. Fortunately for us, our friend encouraged the group to push past the fatigue and give it a go in-spite of the rain. So push on we did! We grabbed umbrellas and drove the 1 hours and 15 minutes to our destination.Must to our amazement, the sun began peeking out just as we arrived. This was certainly a foreshadowing of things to come over the following few hours.
On the way to St. Michaels, our friend/tour guide gave me a brief history of the town. Settled by English men and women, the British were trying to take it back over in the War of 1812 for America's independence. On August 10, 1813, the British were attacking St. Michaels and the settlers got creative. They hoisted lantern lights from the tops of their ships and even the top branches of trees. This made the British believe that the lights were glowing through windows of homes and aimed for those lanterns. It worked as the residents hoped, and the cannonballs were shot above the roofs of every home in St. Michaels. Only one house was hit and today it still stands, known as the "Cannon Ball Home." St. Michaels was then dubbed as, "the town that fooled the British."
We parked in the heart of St. Michaels behind all of the boutiques and shops on S. Talbot Street. Even though we arrived well after 5pm, there were still a few remaining shops left often. Unique treasures, gifts and clothing were to be found all around. There seemed to be a never ending supply of specialty shops, Chesapeake themed clothing and surprising finds. Every store you walked into smelled heavenly of high end candles for sale. Usually there was music playing and immaculate shops showcased unique signs, decorations, books and household trinkets. The available shopping for men, women and children offered a wide range of fashion and gifts for all tastes. From casual beach wear to dressy and formal apparel that took my breath away. One of my favorite stores was called
Knotty Living
, which provided chic, stylish clothing for young ladies. For a full list of some of the highest recommended shopping in St. Michaels, view TripAdvisor's recommendations
here
.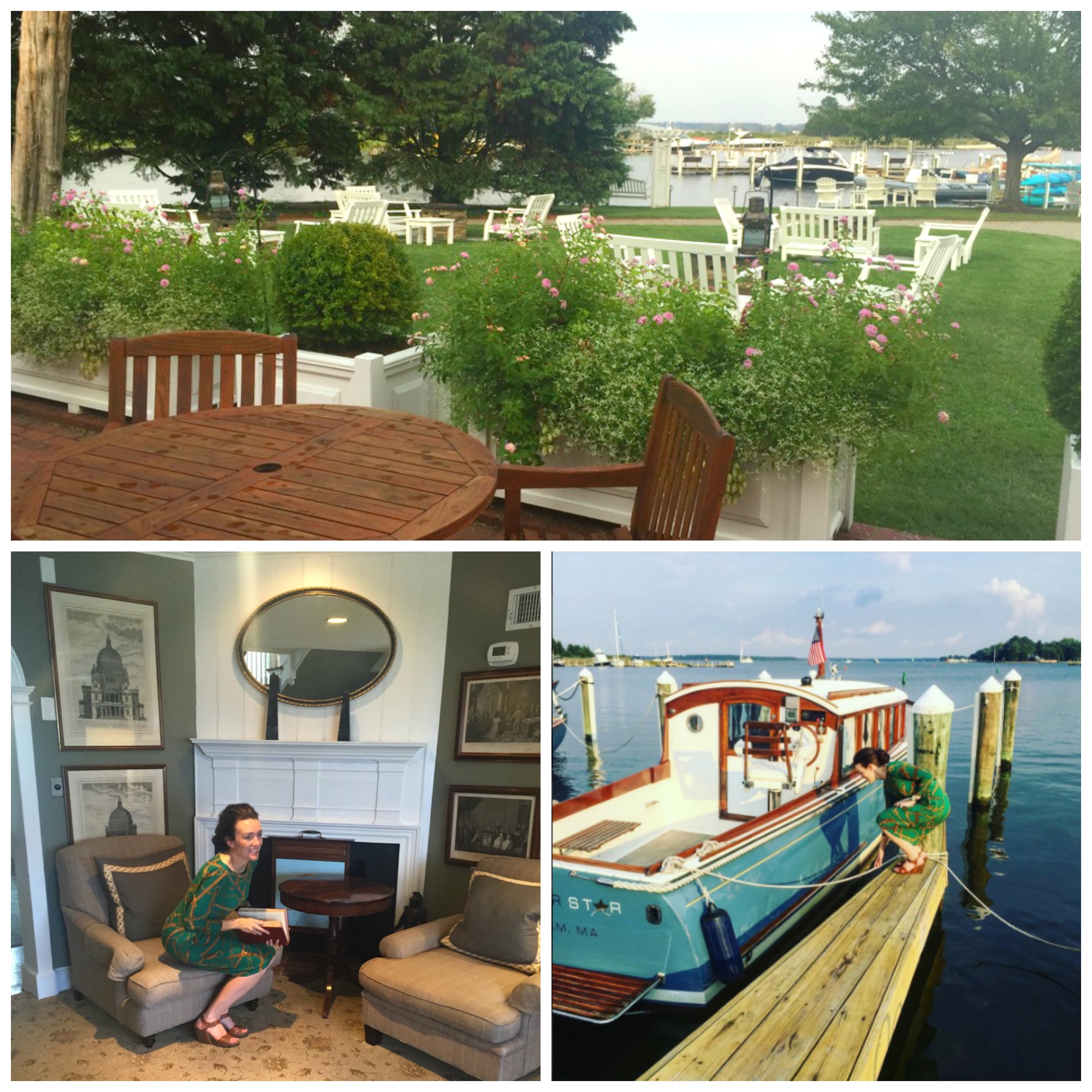 (Top: View from the Inn at Perry Cabin's back porch. Bottom Left: Shenae in the Inn's sitting area.
Bottom Right: Inn at Perry Cabin's boat dock.)
Thanks to our friend's suggestion, we left the tempting streets of shopping to go visit
The Inn at Perry Cabin
. Even if you missed all of the shops and restaurants but were able to walk through this 19th century colonial manor house, it'd be worth your visit. This hotel and special events venue was truly the showstopper of our evening. The moment I stepped inside its lobby, I felt as if I could breath again for the first time during weeks of stress and busy-ness. (Can any of you relate?) Elegance and antique furniture surrounded me as I caught glimpses of the river in its back yard through the southern style, white trim windows. Once we stepped out on the back porch and walked the pathway down to docked boats and small yachts, I was completely smitten. My heart did swell at the beauty that surrounded me. Large white wooden lawn chairs were scattered about as vacationing couples quietly sipped coffee and enjoyed the sunset. This Inn at Perry Cabin was truly a precious pearl and the star of St. Michaels for me.
To end our relaxing evening, we dined for dinner at a local restaurant,
Dock Side
. We were able to sit in an enclosed back patio and enjoy the beauty of the Chesapeake Bay all from the comfort of air conditioning. The food was delicious but I am told that in this town, that is not uncommon. Most of the dining establishments serve fresh seafood from right there on the coast and know how to cook a mouthwatering delight. For a complete list of TripAdvisor's top restaurants in St. Michaels, MD, click
here
. There is everything from casual pizzerias to formal venues, perfect for a date night.
Yes, the reality of living near all of this beauty and tranquility felt very real that Thursday evening during our brief trip to St. Michaels. However, it is a reality that I am growing accustomed to and will always appreciate. I feel quite privileged to live in our nation's first state. There are attractions both man made and not that surround us all along the east coast. If you want skyscrapers, we've got them. If you want an east coast Chesapeake feel on the water without any distractions, we've got that too. Isn't it time you made the move? Start to call Delaware your home. It all begins by contacting the
Don Williams Group
at
(302)545-6859
and speaking with one of our agents about buying or selling a home. Now is the time to take a leap of faith and enjoy what I myself feel so blessed to call home.