Wednesday, August 3, 2016 / by Shenae Andrus

My husband is a gentleman in every regard. As a minister I often see him in a sharp, well-fitted suit, with a silk pocket scarf, matching tie and recently polished shoes. He is known for his charisma, eloquence and intellect. Although he was raised on the east coast, his family roots go back to Louisiana. So atop his poised demeanor is also a lot of southern charm. His persona reads regal, as he walks into rooms head held high, shoulders back and assertion in his eyes. No one would debate that he comes across as a very elegant and proper man. This is the man that I see in the office, at services on Sundays and while visiting families in their homes.
Then, there's another side to my husband that looks a little different. Never have I seen him happier than when the suit is left hanging in the closet and the polished lace up black dress shoes are switched out for a more casual pair of footwear. In the place of perfectly combed hair sits a baseball cap and instead of a restricting buttoned collar, there sits the round neck of a t-shirt. It's with a smile on his face that he sets out to do his most favorite past time… fishing. Hand gripped around a long fishing pole, he sets out to catch a fish and release so much more. He comes home without a care in the world. Yes, fishing is quite therapeutic for my gentleman.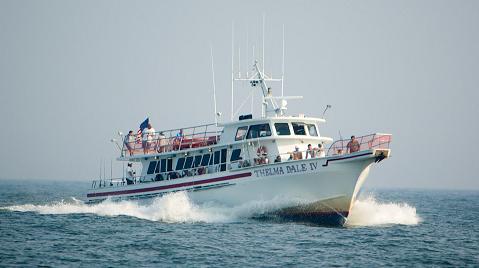 (Above: Thelma Dale Fishing Charter Boat from Fisherman's Wharf)
For those that can relate to the magic of fishing, how it calms troubled spirits and and how it feels to breathe in the salty air, you know that Lewes is a wonderful place to drop a line. Many fishing opportunities are provided to salt water fishermen, including one establishment called, "Fisherman's Wharf." Fisherman's Wharf provides chartered boat excursions for those who are itching to enjoy an authentic fishing experience. 8 hour trips depart at both 6am and 2:30pm. For those wanting to spend half a day on the boat, there are trips that depart at 7am and 2:30pm. Passengers pay $90 and this includes their bait and tackle, transportation and guided tour of the Delaware Bay as fishing hot spots are visited so that participants are sure to catch plenty. There are five charter boats to choose from with each one allowing a varying number of passengers. To view them, click here.
If fishing is not necessarily your cup of tea, but you love being on the water, Fisherman's Wharf has something for everyone. A number of cruising options are available including Dolphin Watching Cruises which set sail around 9:30am and includes continental breakfast, Evening cruises that last about 1.5 hours and Private Cruises for weddings, showers and more. Cruise prices range from $29 to $35 per an adult and anywhere from $15-20 for children 12 years and younger.
Located at 107 Anglers Road in Lewes, this company has been in business for three generations, run by the same family. Advanced purchases for your sea adventure of choice is recommended, by calling (302)645-8862. When you do call, be sure to let them know that you heard about them from the Don Williams Realty Group at Keller Williams in Lewes. We know that you won't regret venturing out onto a boat with Fisherman's Wharf. It's sure to be a memory you won't forget!
The Don Williams Realty Group is made of agents that love the area and are constantly exploring Rehoboth, Lewes and the surrounding cities to bring to you the best options in vendors, service providers, restaurants, shops and more. Here on our blog, we love highlighting local places that deserve our attention. We also love hunting for homes that also deserve the attention and love of a new family. If you are ever looking to buy or sell your property, we are here for you. Call us today at (302)545-6859 to set up your personalized home buying plan! Whether you love fishing, the beach, are a self proclaimed foodie or just want to be closer to friends and family in the area, we promise to make all of your realty dreams come true!