Sunday, October 2, 2016 / by Shenae Andrus

My husband has been to over 30 countries in his short 28 years of living. He has put a love for other nations in me, as he's narrated stories of his adventures overseas to Scotland, Argentina, Austria, France, China, Israel, Syria and other destinations. Being exposed to numerous cultures, foods and traditions has made him an incredibly well rounded individual. In my trips overseas, I have also felt like the uphoria of traveling and being exposed to life beyond my own country. Sometimes it makes you grateful for what you have here in America, and other times, it makes you wish you never had to return! No matter what you feel upon coming back to the good old USA, you never regret the breath of excitement breathed into you from exploring the world. However, you do not always have to travel to India to feel as though you've tasted of their way of living. Every now and then you find a little treasure state side that opens up your eyes to what else lies outside of your own situation. My 28th birthday was such an occurrence.
My sweet husband had everything planned. It was all a surprise! From the very start of the day at 6am with breakfast at Bob Evans, to my presents and birthday dinner, I had no inkling of what was to occur. After many hours of pampering, gifts and even a surprise photo shoot, we were heading to a special location for what was promised to be an evening to remember. Joel wanted to take me to an establishment where I could get a taste of my Western European heritage. I had no idea that such a place even existed! Never the less, we pulled onto a busy Rehoboth Beach avenue and tried to find a parking spot. We had dressed up and I felt a bit silly walking around in heels while tourists passed by dressed for the final days at the beach. That is, until we walked through the doors of an exquisite restaurant.
The Red Square
on
Rehoboth Avenue
is named after a famous square in Moscow, Russia where the president currently lives. The moment we crossed its threshold, you felt as if you were actually there. Rich red leather booths and chairs contrasted with dark hunter green walls; upon which were replicas of some of the most famous
paintings
that could be found in Russia. White linen table cloths, glassware and lavishly elegant china spoke of a fine dining event. Music surrounded us with Russian lyrics being sung, but what made this venue even more authentic, was that it was owned by a Russian immigrant named Victoria. She had married an American scientist that was visiting Russia and eventually made the move to America. Upon retiring, she longed to start a restaurant that would act as an ode to her homeland. All of the china and crystal on our table was from Russia and looked as though it came from the Kremlin itself.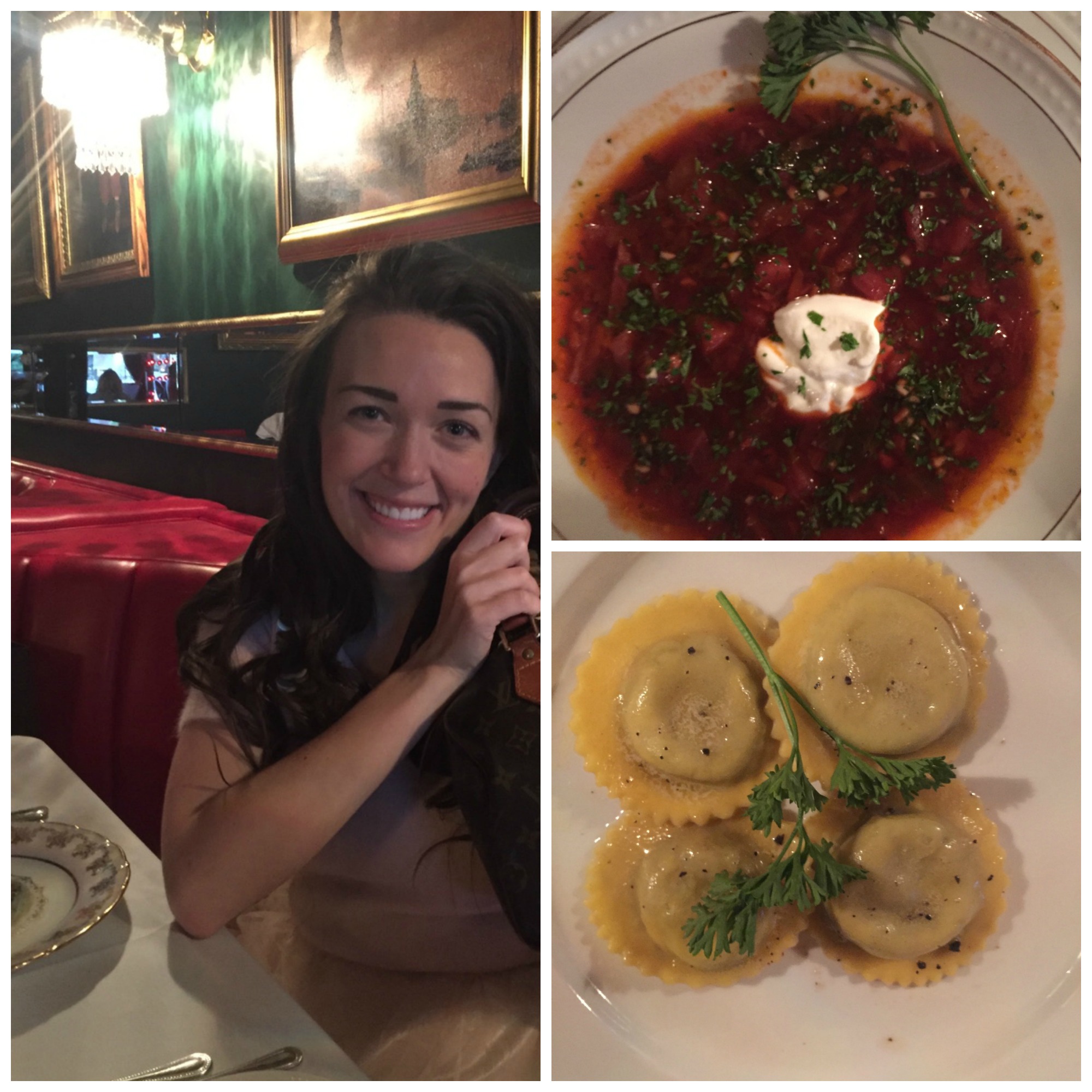 (Sitting at our table enjoying delicious appetizers which we enjoyed with Russian Black Bread.)
We tried some of the most elegant and traditional dishes that were on the menu.
Caviar
was available for those aiming to try something incredibly high-end and exciting. For my husband and I, we went with the advise of the owner, who would often stop to chat and give us her recommendations. What I truly loved, was that for every dish she recommended, she was able to give us an explanation of why they were authentic Russian cuisine and share a story of how she came to add it to her menu. I enjoyed a delectable, traditional dish of Beef Stroganoff which is made of sirloin, mushrooms and onions in creamy sauce. My husband went for the Smoked Duck Breast which featured French Foie Gras Roulade, and was the highlight of the dinner served to Russia's President Boris Yeltsin and President Clinton at a summit meeting in 1996.
The Red Square is open from Thursday evening through Sunday evening from 6pm through the night. All in all it was certainly one of the most fun birthdays I have ever had! To experience something so unique and out of the ordinary is to feel like you are really living to the fullest. I would recommend this venue for any special occasion or for a romantic date. It would be a night that you would always treasure. To think that something this unparalleled resides right here in our own neighborhood, makes me realize how blessed we are to live in such a location. Close to the beach in summertime, yet never lacking fun moments in the colder months. If you have ever considered making Rehoboth Beach your home for retirement or relocation, why not give the
Don Williams Group
a call at
(302)545-6859
? Our agents are not only qualified but are passionate about this place that we ourselves call home. We can't wait to help you see why living in
Delaware
is one of the best decisions you'll ever make. With dinners like the one I had at The Red Square, you'll fall in love with the food, the shopping and ambiance that is Rehoboth.